Blogs | 05 March 2019 | Neville Vincent <
But is the promise of cloud confusing the country's enterprises and hindering their growth, rather than helping it?

Modern organisations are rapidly adopting multiple cloud services, applications and providers, attracted by the prospect of simplifying operations, improving efficiencies, driving speed and flexibility, and liberating themselves from traditional, expensive on-premise vendor solutions.

But in the need for speed, enterprises often end up replacing one vendor with another or opting for alternating systems to provide redundancy and business resiliency. This can end up trapping them in exactly the same inflexible, costly and complex infrastructure environment they were looking to escape.

So, what is the solution?

Treat your cloud operations like the rest of your business. Better management and visibility into cloud is crucial to realising its true promise, and better use of that technology is the key to increased productivity and efficiency.

The technology sector has done a great job selling businesses on the benefits of cloud but many have used a carrot and stick approach to drive their customers into unnecessarily expensive and/or restrictive versions of cloud.

A recent report commissioned with industry-research firm IDC compared like for like, the annual cost for a select set of services on Nutanix and that of a well-known public cloud provider. Over five years, IDC illustrated how Nutanix costs were 48 per cent lower ($310,000 compared with $600,000). A simple, small example in one department, but multiply that across the business and the additional funds available for investment across the enterprise becomes staggering.

And it doesn't stop there. A survey from RightScale earlier this year highlighted that 35 per cent of cloud spend is being wasted. The research also showed that 26 per cent of large enterprises now spend around A$8.5 million in public cloud annually. If we think back to Gartner's $5.6 billion total spend figure – just how many millions, or hundreds of millions, of dollars are being wasted in Australia?

Finding the right balance

Of course, it isn't quite as simple as dismissing public cloud altogether. It is still a highly valuable resource and should retain its place in the business world, because it's better suited to the 'unpredictable' events.

Approximately 75 per cent of digital resources and workloads (depending on the size of business) within an enterprise are what we call predictable. Email, HR and accounting software typically fall into this category. The predictability and sensitivity of these workloads mean it is more efficient and far cheaper to run them in a private cloud environment.

However, there are also unpredictable requirements such as new, short-term digital or 'seasonal' services or campaigns. For example, a corporate launch event where the IT department is unsure about what level of uptake there will be, and what impact or stress that will have on current IT resources.

This is where the public cloud can be a vital ally. There is no need to know what strain the event will place on current resources, because you can rent the 'desired amount' of additional resources and even increase it in real time if necessary. Public cloud, in theory, provides infinite resources and by using it to support your private cloud you create a hybrid cloud environment.

If you only needed to travel a driveable distance once every few months, investing in your own car wouldn't be efficient – you're far more likely to take a taxi or a ride-share. But if you need to drive somewhere every day, purchasing a car is a better, more cost-efficient option.

So, if the logic and utility of hybrid cloud seems sound, where is the problem? Until recently the problem was that the cloud apps, workloads, etc., were designed to work in silos and were not meant to be moved from public to private cloud, and vice versa, so hybrid cloud could still be a nightmare. That issue is being addressed with the development of interoperable cloud management systems making hybrid cloud a real alternative.

These are systems that translate the information needed to switch lanes between any type of app, workload or cloud environment.

A line in the sand

There are even intelligent cloud management platforms designed to give real-time visibility of cost, usage, and workloads across your entire cloud environment. With knowledge can come power and profits.

The bottom line is that public cloud is not a one-size-fits all solution for any enterprise, large or small in Australia. The ideal solution is a hybrid model, one that has evolved to eradicate the frailties that prevented the two systems synchronising with each other. Now that there are simple and interoperable operating systems to smooth the way, there is every reason to adopt hybrid.

The sooner Australian businesses grasp this philosophy the better for them and their customers. What could you do with a spare odd million dollars?
Neville Vincent, vice president ASEAN, India and Australia and New Zealand, Nutanix
Eliot Hastie is a journalist on the wealth titles at Momentum Media.
Eliot joined the team in 2018 having previously written on Real Estate Business with Momentum Media as well.
Eliot graduated from the University of Westminster, UK with a Bachelor of Arts (Journalism).
You can email him on: This email address is being protected from spambots. You need JavaScript enabled to view it.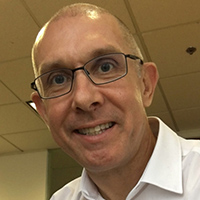 Written by Neville Vincent