Blogs | 18 November 2019 | Nick Griffin <
While IT spending as a whole has reached US$2.2 trillion a year, the cloud ecosystem is taking up a bigger and bigger proportion of this – currently around US$200 billion a year and growing fast.
Virtually every big corporate around the world is migrating to the cloud via companies such as Google (Alphabet), Microsoft, Amazon and Alibaba.
These companies offer scalable, commoditised computing power – that is, Infrastructure as a Service – to corporates all over the world, through their data centres.
Furthermore, their scale allows them to reduce costs which helps accelerate the transition to the cloud.
Over the last few years, these companies have delivered strong returns to investors. However, the last 12 months have seen returns flatten, and some investors may be wondering whether the best days are behind them.
Certainly multiples have been contracting and it's tempting to ask whether the pullback in performance is a sign that the unprecedented growth of recent years is now slowing. Or is it that they have been overvalued and "bid up" by the market, and they are now returning to more reasonable values?
At Munro, our view is that while there have been some headwinds facing the sector that have caused a short-term performance dip, they are not cause for serious concern.
One key headwind over the last year has been the regulatory uncertainty that some of these big companies are facing. Their dominant market position has led to concerns about data protection and consumer rights, and possible anti-competitive practices. Microsoft has probably been the "cleanest" of the big four companies on this front, and its performance has also been the strongest.
Other challenges include the US-China trade war which has had a particular impact on Alibaba.
But looking at valuations, we see a lot of these issues as adequately priced in, and over the long term they will not damage the growth prospects of these companies.
While generally perceived as high multiple stocks, based on an EV-to-EBITDA basis, Microsoft, Google, Amazon and Alibaba are cheaper than most consumer staples such as Coca-Cola, McDonald's or Kraft Heinz. This is despite IaaS providers having three to four times the expected growth over the next few years, with dominant competitive positions.
While it is difficult to forecast what will happen in the economy, where interest rates will be in five years' time, or what will happen in politics, when it comes to cloud computing, the crystal ball is a lot easier to read.
Over the next five years, the big four companies – Microsoft, Google, Amazon and Alibaba – should experience more than doubling of their cloud and infrastructure revenues.
We also expect them to significantly improve margins as they enjoy the benefits of scale which will contribute to sustained earnings growth in the years ahead.
For investors, the future remains bright.
Nick Griffin, chief investment officer, Munro Partners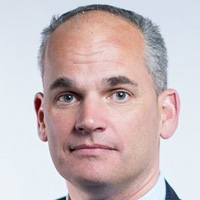 Written by

Nick Griffin