Blogs | 23 March 2020 | Giuseppe Porcelli <
This has seen major banks commit billions to new digital banking initiatives, such as Commonwealth Bank which committed to spend upwards of $1 billion a year for the next five years.
However, not everyone has billions to spend.
For decades, mutual banks have been focusing on delivering value to customers through services and pricing. These services have largely been embedded in physical reality, in-branch and with real people. But, with today's move towards digital-first open banking, they are at risk of being left behind.
And, it's not hard to see why, with mutual banks spending $192.4 million on technology last year, according to KPMG. This is just a drop in the ocean compared to the billions spent by the majors.
There is an increasing digital divide between the mutual banks and the major banks. In fact, 65 per cent of mutual bank leaders identified limitations in their IT systems as the biggest challenge to digitisation.
But the problems don't stop there for the mutuals. New banks are now launching that are solely focused on being digital. The so-called neobanks. They have no physical costs (like branch stores) and run on lean operations, keeping operating costs to a minimum. To do this, they have adopted the latest technologies, investing in automation and data intelligence. They have jumped straight into banking without the need to have to rip and replace legacy systems and ready for the next iteration of the banking technology revolution – open banking.
Open banking to create an uneven playing field
Whilst many have touted the benefits of open banking to the customer, it is a financial nightmare for the incumbents. And, with mutual banks already struggling to invest in the technologies to support their customers' digital expectations, this could further exacerbate the digital divide.
Since open banking launched in the UK on 13 January 2018, financial institutions have been surprised by the financial burden of the new regulation. HSBC's head of open banking and PSD2, Hetal Popat, said that the regulation has "cost a fortune and soaked up a huge amount of technical capacity".
These sentiments were also reflected by Lloyds and TSB, who also spent money due to innovation by enforcement.
Open banking then may well make the playing field even more uneven than it already is, essentially creating a technological canyon between the mutual banks and major banks.
A fintech bridge
It's not all doom and gloom. Australia has a burgeoning fintech community that is looking to shake up the traditional way of doing business. Many fintech businesses are specifically aimed at improving the processes and capabilities of banks to enhance the customer experience.
And, it's a very mutually beneficial relationship. Firstly, mutual banks are typically more nimble than the major banks. They don't have the same layers of bureaucracy to navigate. They can move and change as the solution requires.
Secondly, this relationship means mutual banks do not need to invest in building (and maintaining) new platforms, technologies or digital processes. This can essentially be bought from fintech providers, who can overlay their solutions on a mutual banks' digital environment.
Furthermore, open banking enables fintechs to gain access to customer data, traditionally held exclusively by banks. Accessing this information means mutual banks and fintechs can innovate, designing financial products that benefit the customer by leveraging digital processes and building on accessible customer data.
By taking an open approach with fintech partners, mutual banks can continue to deliver their NPS leading customer-centric and community-focused services, whilst the fintechs innovate, building on top of the mutuals digital environments. It's a win-win and one that can be more cost-effective than mutual banks building new digital services themselves.
A collaboration best placed to improve tomorrow's financial services
The Australian financial industry is ripe for a shift of power towards the mutuals. The majors are still recovering from the devastation that was the royal commission. Whilst neobanks offer more of the same banking services of yesteryear – just without the real people to serve you.
Mutuals are different. They've been the bedrock of customer centricity for years. They are there to serve their customers not shareholders. And, they just need to improve their digital financial products and services that augment (not replace) their historic physical presence.
By uniting mutual banks and fintechs not only can they bridge the digital divide, but the partnership could also increase competition within the banking sector. It wouldn't be a surprise if this combination created Australia's fifth major bank.
Giuseppe Porcelli, chief executive at Lakeba Group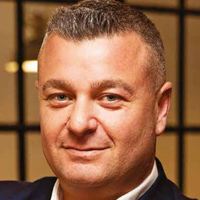 Written by

Giuseppe Porcelli