Blogs | 17 August 2020 | Srikanth Venkatesan <
However, many insurers have been slow to recognise the fundamental transformation underway, with only 51 per cent of insurance executives considering AI to be core to their company's success. Insurers need to accelerate their efforts, or risk discovering that it has become too late to catch up.
Enter: The insurtech
Some have foreseen this shift in paradigm, and this is how disruptive insurtech players have emerged. In fact, Australia's insurtech sector has grown by 53 per cent this past year, now representing 30 per cent of the insurance ecosystem in 2019 according to an Ernst & Young and Insurtech Australia report. Moreover, global insurtech funding is booming, with insurtechs receiving $4.20 billion in the first two quarters of 2019 alone.
Inspired by the fintech movement, insurtech companies are building their success on cutting-edge technology foundations designed to maximise customers' savings, improve the customer experience, and generate cost efficiencies that outperform traditional industry standards.
Many insurtechs are leveraging artificial intelligence to slash costs, speed up response times and improve customer service. While many traditional players see this increasing competition as a threat, it isn't too late to catch the train.
Insurers face a battle to remain relevant
There are two possible routes incumbent insurers can take to maintain relevance in the future of insurance: invest heavily in technologies to overhaul their business model and generate the same efficiencies insurtechs can, or seek strategic collaboration with them. The latter is probably the most relevant, and less cumbersome and costly.
We are seeing signs of maturation in the fintech sector, with an increasing competition and a number of strategic partnerships involving both traditional and new players. Insurtech isn't different, and while new players are better placed from a technological and user experience point of view, they lack the brand, consumer trust and history that traditional insurers have built up over decades. Certain areas where technology application is maturing fast include recommendation/next-best-action algorithms, sentiment detection/voice recognition, and detection of specific patterns and outliers.
Instead of spending energy and financial resources to compete with each other, combining their strengths to implement innovations in the industry is most likely the best route, not just for the benefit of consumers, but also their own.
Insurers must move from 'doing' digital to 'being' digital
For most insurers until recently, going digital has amounted to a digital layer placed on top of legacy systems, processes and products. However, with insurtech, digital technologies are becoming the underlying foundations of the insurance industry, and incumbents must position themselves in that regard.
The growing impact of the internet of things (IoT) has meant that insurers now have the opportunity to obtain actionable insights from a proliferating variety of new data sources. For example, wearable fitness trackers can be leveraged for health insurance, smart home appliances for home insurance, and telematics in automobiles for car insurance.
Car insurance, in particular, is poised for disruption: just think of automatic premium adjusting based on the level of risk an automobile driver takes in real-time. On top of this, the use of drones can be implemented to analyse the damage from a car accident, providing instant integral data to the insurer for faster claims processing.
These sources of readily available data allow insurers to improve the accuracy of risk assessments and quotes, as well as expedite underwriting, reducing the processing time to mere minutes.
Furthermore, implementing smart chatbot assistants that can deliver customised product recommendations and manage customer service inquiries will help ease the complexity of insurance transactions. This could greatly improve the insurance value chain.
These digital technologies, underpinned by AI, represent a huge opportunity for insurers to remain competitive in an ever-changing insurance landscape. However, the challenge of effectively and successfully implementing them still stands.
Best practice AI implementation
Making the transition to an AI future is no longer optional. However, many insurance companies are moving slowly due to the uncertainty in the investments that will provide the best returns. Here are a few tips to get them started:
Solve a business problem: Insurers need to first assess each aspect of their organisation to identify where to best deploy artificial intelligence and where it will solve a real business problem, leveraging internal and external data to take full advantage of it.
Build strategic capability versus point solutions: Insurers need to realise that building strategic enterprise capability using AI will be a long-term project, not a one-off project for a point solution. This would need executive sponsorship and serious change management.
Get the skills: Insurers will need to ensure they are equipped with the right skills in AI. Technology is obsolete when businesses lack the profiles to navigate it. This is easier said than done in a country with a dearth of technology talent. Only a combination of hiring additional talent, partnering with third-party experts, and partnering with, or even acquiring, insurtech start-ups can achieve that. Even so, insurers should be prepared for heavy investments to acquire the right people and skills.
Create the right data foundation: with the explosion of data on account of traditional and non-traditional sources, including sensors on property and machines, along with exponential availability of personal information due to social media usage, right levels of diligence in sifting, collating and organising the right foundational structure will be key to successful adoption of AI tools.
Tolerate risk: Developing a tolerance of experimentation, combined with rigorous measurement of ROI is the recipe for successful innovation. It ensures innovation with an open mind and provides a framework where failures are terminated quickly, and successful pilots can be moved into full implementation earlier.
Put digital at the core: The age-old approach of layering an AI solution over a poorly designed legacy process will only squander its potential and insurers need to ensure they are integrating digital at the core of the business.
Avoid bias at all costs: Increasingly more important is the design of responsible AI. Applications that make inappropriate or even biased decisions can inflict significant reputational damage to businesses and have catastrophic consequences for customers, especially in an industry such as insurance. In the process of implementing artificial intelligence, establishing AI ethics policies and procedures is key to making sure that applications are behaving and taking decisions ethically and continue to do so as they adapt and learn over time.
The future of insurance is customer-centric
Insurance today is at a crossroads and faces perhaps its most significant strategic decision in decades. AI is driving changes that will soon make insurance virtually unrecognisable as the industry shifts to a more customer-centric model.
The market won't be kind to companies that choose to sit on the sidelines and wait until the path forward comes into focus. In order to stay relevant, insurers need to adapt to new industry standards and consumer expectations.
Srikanth Venkatesan, head of insurance business, APAC, Cognizant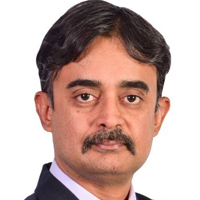 Written by

Srikanth Venkatesan