Industry | 24 July 2017 | Tim Stewart <
Sydney-based fintech hub Stone & Chalk has confirmed it will expand to Melbourne, initially setting up alongside agtech company and innovation hub SproutX at Level 1, 459 Collins Street.
Stone & Chalk Melbourne's new workspace will offer 60 desks for fintech start-ups as well as programs and events for local companies.
Anchor corporate partners for Stone & Chalk Melbourne include Findex, Genworth, Liberty Financial, ANZ and NAB.
The new Melbourne hub will be led by Alan Tsen, who recently left his role as chief executive of Fintech Victoria.
"Melbourne fintechs have found it hard to access affordable space, as well as mentorship, talent, business programs and capital. As an ecosystem, we're emerging as a real centre of excellence in a number of fintech verticals, like wealth, blockchain technology and cyber security," Mr Tsen said.
"By launching Stone & Chalk in Melbourne we will help local fintech startups feel part of a bigger fintech movement, connecting them with potential investors and customers nationally and globally," he said.
Stone & Chalk chief executive Alex Scandurra said, "This is an historic achievement for the Australian fintech industry as a whole. Providing promising fintech startups with a physical headquarters and access to customers, mentorship and partnerships in Australia's two largest cities.
"By global standards Australia is a very small market so we need to find more ways to enable collaboration between Australia's major economic hubs, which are our major cities and regions.
"Our Melbourne hub will help to further accelerate an already fast-moving industry that's integral to Australia's future."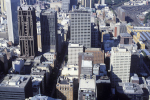 Written by

Tim Stewart