Zip and Sezzle confirm takeover talks
The two buy now, pay later providers are considering a potential acquisition.
news | 25 January 2022 | Jon Bragg <
Zip has confirmed it is currently in discussions with Sezzle in regard to a potential acquisition following earlier media speculation.
"Zip is always interested in pursuing options that are in the best interest of shareholders; however, the discussions with Sezzle are preliminary in nature and there is no certainty that the discussions will result in a transaction of any kind," Zip said in a statement to the ASX.
The Australian previously reported that Zip may pay a premium of as high as 50 per cent to acquire Sezzle based on recent negotiations between the two companies with Goldman Sachs, Bank of America and Jarden reportedly involved in the potential deal.
"The Zip Board remains committed to ensuring any transaction delivers value to shareholders and will always be disciplined in its assessment of potential opportunities," Zip said.
"It will only pursue transformational transactions that help accelerate the delivery of Zip's broader strategic objectives such as enhanced scale in core markets, improved customer and merchant propositions and a faster path to profitability through significant synergy opportunities."
Both Zip and Sezzle confirmed they would keep the market updated in accordance with continuous disclosure obligations.
"No definitive agreement has been reached between the parties in relation to any transaction. There is no certainty that at this time that these discussions will result in a transaction," Sezzle confirmed in its own statement to the ASX.
The news follows a number of major developments in the buy now, pay later space in recent weeks.
Latitude and Humm have entered into a non-binding heads of agreement that will see Latitude acquire the BNPL provider for $335 million.
Additionally, Block's acquisition of Afterpay has cleared its final regulatory hurdle and is set to take effect from next month after receiving approval from the Bank of Spain.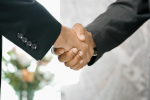 Written by

Jon Bragg