Lending | 03 August 2020 | Malavika Santhebennur <
Prospa has announced its preliminary unaudited results for the full year to 30 June 2020, in which it said loan originations increased in June compared with April and May.
According to the lender, this reflects renewed customer demand from SMEs, an adjusted risk appetite and the full rollout of the Coronavirus SME Guarantee Scheme supported loans.
Loan originations in June 2020 were $12.8 million for the month, up from $6.2 million for May and $2.9 million for April.
The considerably lower loan originations in April and May reflected the early impacts of the severe economic downturn associated with the coronavirus pandemic.
According to Prospa's results update, the current period is evidence of the resilience of small businesses amid some of the most difficult trading conditions they have had to face.
Commenting on the results, Prospa CEO Greg Moshal said: "Australian small businesses are resilient. Despite an ongoing challenging environment and continued uncertainty, we are now seeing small businesses across all sectors planning for their recovery."
Prospa has continued to provide customers with COVID-19-related relief packages, which typically consists of full deferrals of six weeks or partial deferrals of 50 per cent of the typical repayment, with interest on the outstanding principal during the full or partial deferral periods being capitalised.
The volume of customer support requests has returned to pre-COVID-19 levels. Since its market update on 4 June, Prospa has provided an additional 55 customers with relief packages.
As at 24 July, a total of 5,556 customers have received these relief packages from Prospa.
The number of customers on partial repayment arrangements has decreased from 2,731 as at 4 June to 1,194 customers.
Further, 3,063 customers have reverted to full contractual repayments, up from 836 on 4 June, while 431 have paid out their balance in full.
"We have provided impacted customers with COVID-19-related relief packages, with the majority of these customers having now returned to full contractual or partial repayment schedules," Prospa's update stated.
Prospa, which is an approved lender to the current Coronavirus SME Guarantee Scheme, welcomed the recent extension of the scheme by the federal government to 30 June 2021.
"[We] expect the increased flexibility of the new scheme, including more flexible loan amounts and terms and the inclusion of a wider range of products, to appeal to a wider range of small-business customers," the lender said.
Speaking to The Adviser about the results, Mr Moshal said: "The funding scenarios we're supporting are diverse."
"We've had businesses that need capital to temporarily cover wages and supplier invoices, launch a marketing campaign, make upgrades to meet the mandated hygiene standards, purchase supplies for new projects and even expand their premises.
"With increased demand for credit and emerging signs of small-business recovery, now is the time for brokers to get in touch with their BDMs to see how we can help."
Mr Moshal also underscored the fact that the lender is working with the broker community to support small businesses on their road to recovery.
"Many small-business owners are adapting to their new circumstances and looking for innovative ways to deliver current and also new products and services, and brokers play a key role helping them understand their funding options."
Prospa reported that revenue grew at an annualised rate of 10 per cent in the nine months to March 2020. The lender is expecting this to slow to 4 per cent over FY20.
In addition, due to the challenging environment facing its small-business customers, Prospa has set aside a further provision of around $20 million as an economic overlay to take into account the economic impacts of COVID-19.
This has lifted the allowance for expected credit losses as a percentage of receivables to 11.7 per cent for FY20, compared with 5.9 per cent in first half of FY20.
This provisioning, combined with an additional $5.5 million in write-offs, has contributed to an expected earnings loss before interest, tax, amortisation and depreciation (EBITDA) of between $18 million and $22 million.
Before these adjustments, EBITDA was expected to be between $4 million and $8 million for FY20.
Prospa expects to announce full-year results on 27 August.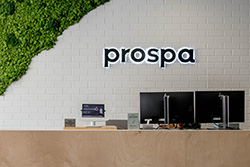 Written by

Malavika Santhebennur