Payments | 15 March 2021 | Sarah Kendell <
Addressing a Pritchitt Bland Communications media event, Tribeca Investment Partners lead portfolio manager Jun Bei Liu said the fall of local tech darlings such as Afterpay and ZipPay would continue off the back of unexpectedly strong reportings season results, indicating the "real economy" was rebounding at a rapid pace.
"In terms of tech [stocks], they've been the beneficiary of COVID working from home and they got so expensive because money is cheap – last year central banks added 30 to 40 per cent to their balance sheets, so all the money printing is inflating asset prices," Ms Liu said.
"What's happening at the moment is we see real bond yields rising, so the real economy is improving. We've heard from almost every corporate in Australia and globally that this reporting season we had in February was by far the best in two decades.
"Things are going well in the real economy which means some of those cheap companies impacted by COVID lockdowns now suddenly look too cheap, so you are seeing that significant reversal."
Ms Liu said the large amount of retail money at play in the equity market as a result of cheap asset prices was leading to increased volatility that was likely to continue as markets corrected away from overpriced growth stocks in the tech sector.
"Today's share market is leveraged so there are a lot of derivatives being traded – you just need a couple of sellers and suddenly the whole market goes into correction because of tech," she said.
"So you see that transition taking place, and our view is that we will continue to see this sort of rotation this year simply because the real economy is improving and that momentum is going to be there.
"Tesla [on Tuesday] was up 20 per cent but it fell a lot, it went to correction mode, so it's all a demonstration of the leverage that is in the system. With so much retail participation, we will see more of that volatility coming through."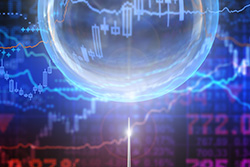 Written by

Sarah Kendell