Wealth | 16 November 2020 | Sarah Simpkins <
With the release of the ETF Securities' ETF Landscape report for the fourth quarter, Kanish Chugh, head of distribution at the ETF solution provider reported that the Australian market has doubled its funds under management during the last three years to more than $73 billion.
This year has seen a change, from ETFs being dominated by financial intermediaries, such as advisers, planners and brokers, towards more investors looking for cost-effective and easy access to the market.
"This year saw a shift with a huge jump in self-directed usage as investors sought to take control of their portfolios and seek out new opportunities," Mr Chugh said.
But the entry of newcomer platforms offering commission-free trades on ETFs is expected to shape retail investor behaviour.
"While trading volumes for ETFs may have settled from March peaks, usage of ETFs is anticipated to continue to grow as is the range of investment options available in Australia," Mr Chugh said.
"The popularity of new trading platforms with an ETF bent, such as Superhero or Pearler, further aids the take-up of ETFs."
Concerns over the COVID pandemic saw average daily trading peak by more than double to $772.7 million in March.
The market held 216 listed products as at the end of October, with there being 17 new listings during the last quarter. At the same time, 11 ETFs were delisted.
Technology has been a large focus, with investments in the FAANGS or tech sector funds being popular with both long and short-term investors.
"Leveraged exchange-traded products have jumped in popularity as investors have looked to benefit from opportunities presented by more volatile markets this year," Mr Chugh said.
"Safe-haven assets have also been popular, with gold-backed ETFs a notably strong performer across the year."
Sarah Simpkins is a journalist at Momentum Media, reporting primarily on banking, financial services and wealth. 

Prior to joining the team in 2018, Sarah worked in trade media and produced stories for a current affairs program on community radio. 

Sarah has a dual bachelor's degree in science and journalism from the University of Queensland.

You can contact her on This email address is being protected from spambots. You need JavaScript enabled to view it..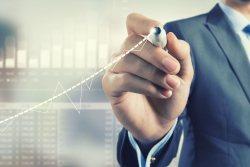 Written by Sarah Simpkins