Wealth | 06 June 2016 | Reporter <
In a statement, Six Park announced Mr Tanner will join former Future Fund chief Paul Costello and former JP Morgan chairman and Six Park founder Brian Watson on the start-up's board.
Six Park has more than $2 million in funds under management at launch, the statement said, and offers a platform that allows investors to create their own managed portfolio of ASX-listed index funds.
The firm aims to be low cost, with total fees averaging less than 1 per cent per annum, Mr Watson said.
The Australian market is "crying out" for a new robo-advice model, he said.
"The saving of 1 to 2 per cent annum our model provides compared to more traditional money management will make a huge difference to the retirement savings of many Australians, and is even more important than ever given the low-return world we are facing for the foreseeable future," he said.
Six Park was established in 2014 by Mr Watson and his colleague Pat Garrett, and was designed to be a "highly accessible investment guidance service that is not aligned with any financial institution".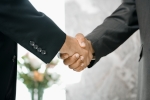 Written by

Reporter