Lending | 02 July 2018 | Jessica Yun <
According to a statement by the Australian Finance Industry Association (AFIA), the new code of practice, titled the AFIA Online Small Business Lenders Code of Lending Practice, was developed to outline and clarify the obligations of small business lenders into a single document to help current and new market participants better understand their regulatory requirements.
The six online lenders developed the code in collaboration with AFIA, peak industry body FinTech Australia, the Australian Small Business and Family Enterprise Ombudsman (ASBFEO), and theBankDoctor.org.
According to the statement, the code "will ensure small business owners can clearly identify if a small business online loan from a lender compliant with the new code, is right for their needs, exactly how much it is going to cost, and if it is the best solution available to them".
The code contains:
"The introduction of a pricing comparison tool providing key metrics that will allow customers to compare the cost of unsecured loans from the signatories (including the total repayment amount, APR, simple annual interest rate),
An easy-to-understand loan summary,
A glossary of key terms in accessible language that applies directly to online small business loans,
Signatories must attest their compliance with the code on an annual basis."
ASBFEO Kate Carnell said the code of practice was a "great starting point" and would help "address transparency and disclosure for small business borrowers".
"The code provides the principles and best practice guidelines for the broader fintech industry[;] however, at present the code is limited to balance sheet lenders," she said.
"I look forward to hearing from members of the roundtable held late last year and discussing how the broader fintech industry can move to adopt the code."
FinTech Australia chief executive Brad Kitschke said the rise of online lending to small- and medium-sized enterprises was about "how the incumbent market failed and where fintech delivered".
"We have countless stories of small businesses growing, hiring more staff, giving opportunities to young job seekers because the online Fintech industry has allowed small business to access credit," he said.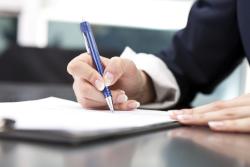 Written by

Jessica Yun