Lending | 18 May 2020 | Annie Kane <
The two reverse auction platforms, LoanDolphin and Joust, were both founded by former banking executives in 2015, as a means to allow customers to access more competitive mortgage rates.
They work by asking customers to put their mortgage needs on their platform. And over an auction period of up to three days, lenders (and, in LoanDolphin's case, brokers) compete with each other via a reverse auction to win the loan.
While LoanDolphin had been a strong business partner of the third-party channel, Joust had been vocal in its ambition to "undercut" the broker market and broker commissions.
The two companies, which have reportedly processed $3.3 billion worth of loan opportunities, will now merge under the Joust brand and combine their technology platforms, datasets and product knowledge in the hopes of serving more of the market.
However, Joust CEO Carl Hammerschmidt has said that the merged entity will be "a marketplace in the true sense".
"It is accessible and effective for lenders of all types, whether that be banks, brokers, non-bank lenders or neobanks. If a lender is able to provide value specific to a customer's needs, then they will be competitive.
"Joust users are able to access all of the major banks, and many of the larger credit unions and regional banks. Brokers and non-banks are also all available on the platform," he said.
The CEO continued: "Both Joust and LoanDolphin have played an important role in creating new and innovative ways for Australians to get a great deal on their home loan.
"The combination of our technology, data and people best positions Joust to deliver exciting new opportunities and innovations to the home loan market."
Mr Hammerschmidt said he believed that "now is the perfect time for the merger, with record-low rates meaning customers can get a really good deal on their home loans using a competitive, transparent platform".
The merged Joust management team will continue to be headed up by the former Bauer Media digital head, while co-founder and former managing director Mark Bevan will become the new head of sales and distribution.
LoanDolphin's co-founders, Ranin Mendis and Rod Dutra, will become Joust's head of revenue and operation and chief product officer, respectively. The former lead software engineer of LoanDolphin, Andre Possebom, is taking up the role of chief technology officer at Joust.
Joust's head of audience growth, Jayne Rafferty, remains in her role and completes the management team.
Mr Mendis commented: "In this challenging growth environment where the duration of customer relationships are shortening for lenders, cost of acquisition is a major issue.
"In March, we saw record customer volumes, and over 70 percent of that was for refinance on an average loan size of more than $500,000.
"With our newly merged platforms, data sets and unique customer experience, we can instantly increase reach for lenders with high-intent borrowers, and ensure they reach the right customer at the right time with the right solution."
The first release for the newly merged businesses is "Joust Instant Match", which reportedly provides customers with "the most competitive loan options instantly" after they've input their details.
"With the release of Instant Match, we are able to service customers who are looking for an immediate solution based on suitability, while the Joust Marketplace will offer a more comprehensive and competitive process. Through both products lenders will also be able to better target customers based on their needs such as demographic, geographic and loan type," the Joust CEO concluded.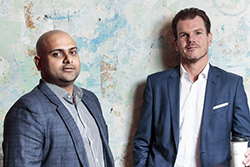 Written by

Annie Kane