Lending | 01 March 2021 | Annie Kane <
Prospa released its financial results for the six months ending 31 December 2020 (1H21), showing that while loan originations continued to improve over the period, they were still markedly down on pre-COVID levels.
While the lender had deliberately restrained its risk appetite at the height of the pandemic, it began easing off towards the end of last year when movement restrictions began to ease.
Total loan originations for 1H21 were $180.7 million, down 41.1 per cent on the pcp, which the fintech said reflected that "small-business demand remained below pre-pandemic levels", and included the "significantly lower contribution from Victoria" (a major market for the lender), due to the region's extended lockdown during the half.
Prospa added that originations have been growing strongly, however, with 2Q21 originations of $100.7 million up 25.9 per cent on the prior quarter.
Moreover, it noted that its volumes were vastly improved on the peak-COVID period (March-June 2020, 4Q20), with originations increasing 265.3 per cent from 4Q20 to 1Q21.
The lender stated that momentum had continued into the first month of 2H21, with originations in January at 75 per cent of pre-COVID volumes.
Beau Bertoli, co-founder and chief revenue officer, told Mortgage Business: "Originations are growing back to pre-COVID levels and our network of broker partners have been really important in driving this uplift.
"Brokers have played a vital role supporting the SME recovery in recent months, helping small businesses to start thinking about what's next, the capital they need to move forward, and also the viable alternatives out there to the banks.
"Looking at the strong quarter-on-quarter growth in originations and the kinds of scenarios coming through from our partners, small-business confidence is definitely returning. They are looking for capital not just to recover or smooth cash flow, but to invest in growth.
"This is a great thing to see and a big opportunity for brokers in this space."
Prospa's half-year results also show growing strength in the New Zealand market, with its NZ operations recording its highest monthly originations volume in New Zealand to date in December 2020.
The lender reportedly surpassed the $100 million loan origination milestone in NZ in January 2021.
Looking at deferred loans, Prospa noted that its deferral period for customers had now concluded, with remaining customers having either resumed payment or are being "worked through on a case-by-case basis".
As at 31 December 2020, loan impairment expense fell to $10.9 million, a decrease of 22.7 per cent on pcp, due to a 25.5 per cent reduction in gross loan receivables in the half.
As a result of lower customer acquisition at the height of the pandemic and customers with outstanding loans finishing their repayments, the 11,300 active customers was down on the prior half figure of 13,300. Average gross loans were also down 22.3 per cent on the prior half to $343.5 million.
However, the lender said it expects that demand will continue to return, with Prospa expecting growth in originations and new customers to support an increase in average gross loans in the second half.
Speaking after releasing the 1H21 results, Prospa CEO Greg Moshal said: "Our mission remains more relevant than ever as SMEs across Australia and New Zealand seek to invest in their businesses in response to change and opportunities. It has been great to see a resurgence in confidence amongst our small-business customers, reflected by our strong quarter-on-quarter growth in the first half of the year.
"While demand in Australia remains marginally lower than pre-COVID levels, we are seeing an accelerated recovery in originations that has continued into 2021. In what we believe is a positive indicator, New Zealand originations are not just back on track, but have reached their highest volumes since inception.
"Our first half result clearly demonstrates the resilience of Prospa's business model. Leveraging the strength of our data, insights and multichannel distribution network, we have been able to rapidly scale to meet and capitalise on increasing demand.
"We have significant funding capacity with trusted partners and our efficient management of expenses and cash during the half has enabled a solid foundation to support future growth."
Overall, Prospa reported 1H21 revenue (before transaction costs) of $55.7 million, down 26.4 per cent on pcp (when it was $75.7 million), and a net loss after tax of $3.2 million. This was markedly down on its profit of $0.6 million in 1H20.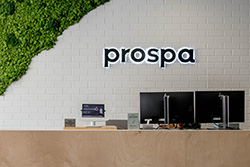 Written by

Annie Kane