Lending | 30 May 2016 | Shared from www.fortune.com <
The New York Department of Financial Services has not yet established which companies it may target, but information it receives in response to a May 17 subpoena sent to Lending Club, one of the largest online lending services, could shed light on broader industry practices that require scrutiny, said the source, who was not authorised to discuss the issue publicly.
Lending Club has until June 21 to respond. It has said it will cooperate fully with the investigation.
Read the full story at fortune.com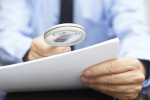 Written by

Shared from www.fortune.com