Local fintechs fear over-regulation amid bitcoin backlash
Blockchain businesses looking to innovate in Australia's fintech sector say regulation is needed, but remain wary of what a crypto crackdown could bring.
news | 06 September 2021 | Fergus Halliday <
As regulators and legislators begin to move towards formal regulation of crypto assets like NFTs and bitcoin, Australia's fintech businesses and start-ups are waiting with bated breath.
While the most well-known applications of blockchain remain cryptocurrencies like ethereum and bitcoin, the technology itself has a lot of potential applications in the wider finance sector.
Speaking to InvestorDaily, Labrys chief executive Lachlan Feeney described the local sector as burgeoning, but warned that its future prosperity ultimately lies in the hands of the government. 
"At this pivotal time in the industry's development, Australian policymakers can choose to over-regulate or foster technological innovation," he explained.
As he put it, "blockchain is a comparatively young technology, and given support, Australian companies have a real opportunity to secure a leading role in this industry globally." 
On the other hand, "short-sighted, poorly considered policy risks stifling innovation before the sector delivers on its immense potential."
While the fluctuating value of cryptocurrencies has garnered considerable attention from policymakers around the world, Mr Feeney reiterated that there is a myriad of ways blockchain technology can be utilised. 
He said that local businesses leveraging the technology are already expanding on the back of new-found economic potential.
"Many speculate that the fruits of decentralised technology will soon be upon us at a consumer level, stealing the limelight from the volatile activity of the investment market," he said.
However, with the rise of infamously volatile crypto assets like bitcoin and ethereum, Mr Feeney was wary of blockchain to be viewed as an unregulated, rogue industry. 
The fear here is that a desire to rein in the volatility of crypto-asset traders could lead to over-regulation and a suppression of potential growth for fintech businesses looking to use blockchain as a technology in other ways.
Despite those concerns, he said that regulation is not only inevitable, but welcomed by the industry.
"Policy frameworks must be introduced to protect the public. Equally important is the need to foster new economic initiatives," he said.
With tertiary institutions across the country scrambling to answer the rising demand for talent in the sector, Mr Feeney said that job growth will continue to accelerate in the future. 
He said that successful and Australian-made blockchain solutions businesses are producing economic value today, but that "very little" of that revenue is entering the country at an industry level.
"The road ahead is unclear, and the decision needs to be made as to whether we want to be a party to this economic revolution or stunt its growth domestically," he said.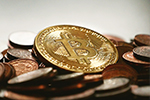 Written by

Fergus Halliday