Blogs | 25 May 2015 | Adrian Przelozny <
It's been a good year for bitcoin so far. US bitcoin company Circle Internet Financial just raised $50 million in a new funding round led by Goldman Sachs, while in Australia another new bitcoin exchange has just opened with support from Westpac. 
Our own exchange, Independent Reserve, last month became the region's first true multi-currency venue with the ability to trade directly in both Australian and US dollars. 
We'll be adding more currencies this year to further simplify the process of buying and using bitcoin.
PricewaterhouseCoopers, Independent Reserve's auditors, released a paper earlier this year discussing the state of the digital currency world. 
In it PwC outlined the need for regulation of the bitcoin ecosystem to protect consumers and provide certainty for bitcoin users and businesses. 
They also pointed out the issues accountants face when including bitcoin in personal and company accounts, as well as the challenges for audit and tax professionals. 
We have long called for more regulation of our industry, and hope that we will see some moves in that direction by the end of the year. 
We have been watching with interest the progress of the inquiry into digital currency, and it is encouraging to hear Senator Sam Dastyari assert that the government's goal is to bring all relevant agencies to the table, with industry participants and associations to address what are the legitimate concerns and what is just scaremongering. 
What needs to happen
A few commonsense moves today will ensure that Australia remains an important participant in the global digital economy.
A global Independent Reserve survey conducted in September last year showed that more than one third of respondents had only become aware of bitcoin in the previous 12 months, but that 40 per cent intended to learn more or buy their own bitcoin in the near future. 
Bitcoin has emerged from the realms of the technorati and is already viewed by many as a viable alternative, or useful adjunct, to traditional currency.
This is largely due to the explosion in the number of mainstream retailers accepting bitcoin, now exceeding 100,000. 
Major global companies like Dell, Microsoft and Expedia accept bitcoin as payment, with more joining the ranks every day. Bitcoin ATMs are popping up all over major cities, and independent businesses from Ferrari dealers to real estate agents to bars and cafes are jumping in. 
US politician Rand Paul made headlines last month when he announced he would accept bitcoin campaign donations, and we will see more very big names beginning to accept digital currency as payment over the remainder of the year.
In Australia, figures from the Bitcoin Association of Australia and the Australian bitcoin business directory, BitScan, showed 194 new businesses signed up to accept bitcoin in March.  
Trading patterns on Independent Reserve indicate buyers are keeping their bitcoin, rather than using the platform for speculative trading.  
This is a positive indication for the market in Australia as it shows that bitcoin is being used within the payments system, not just as a day trading instrument. 
This is backed up by the newly-released 2014 figures from global bitcoin payment processer BitPay, which has seen the volume of bitcoin payments double while the value has halved, again showing that more people are using bitcoin as a cash alternative rather than a speculative instrument.
Bitcoin in 2015
An important focus for the remainder of 2015 will be providing merchant services in Australia that allow Australian merchants to compete globally and attract buyers from overseas by making it easy to do business in Australia through an instrument that is not linked to the financial institutions and currency fluctuations of any one country.
Avoiding the vagaries of international currency exchange is emerging as a key reason why consumers are using bitcoin.  
Later this year, Independent Reserve will enable its users to exchange bitcoin directly in New Zealand dollars, having added Australian dollars to the standard bitcoin currency, the US dollar.  
Customers will be able to have multiple accounts in multiple currencies and be able to break single orders across multiple currencies – just as they can in traditional bank accounts now, but with an important distinction – far lower conversion fees.  
The ability to trade directly in Australian and New Zealand dollars means users will be able to enjoy pricing efficiencies by avoiding conversion fees and foreign exchange risk. 
Many bitcoin users are exploiting the digital currency for just this purpose. Individuals can save up to 70 percent by using bitcoin to effect foreign exchange transactions over bank rates – and more again when measured against non-bank currency exchange outlets.  
By buying bitcoin in one currency and redeeming it in another, many users are finding they can avoid unnecessary high fees and charges. We predict that this use of bitcoin will grow strongly.
Of course bitcoin is very volatile – prices have varied considerably over the past 12 months.  
We predict that volatility will stabilise as more high-quality exchanges become established and more users come online.  
Users are voting with their wallets – both real and digital – when it comes to exchange quality.  
Just as there was in the world of equities a few years ago, we predict exchange consolidation will begin in 2015 and continue over the short to medium term.
Multi-region, multi-currency bitcoin exchanges will become more normal as the exchange side of the business evolves.
It's worth discussing the fact that bitcoin also has no Wall Street standing behind it.  
In the wake of the global financial crisis, many consider this to be a benefit – the democracy of the bitcoin system is very appealing to many.  
However, Wall Street, as noted above, has noticed bitcoin – the NYSE, for example, invested an undisclosed sum into US exchange Coinbase – and we predict that the big end of town will dip their toes deeper into the bitcoin pool over 2015 and beyond.  
Bitcoin forex trading and bitcoin binary options trading seem to be emerging as speculative instruments, and we predict more interesting new uses of traditional and digital currency to emerge in 2015 as the expert money-makers figure out ways to use bitcoin to their advantage.
Time for change
There's no doubt that the traditional banking and payments systems will fight to maintain their dominance of the markets. 
But as consumer demand continues to grow, we will see bitcoin integrating more and more into the financial ecosystem.  
Significant progress will be made this year, and by 2016 we will see bitcoin far more prevalent among mainstream users.
Adrian Przelozny is the chief executive of digital currency exchange Independent Reserve.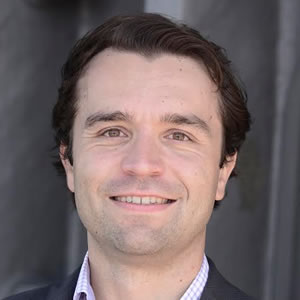 Written by

Adrian Przelozny