Currency | 11 November 2019 | Sarah Simpkins <
Marketlend investors will be able to deposit money into a trustee bank account, which is converted into black using blockchain technology. The currency can then be used for investments into other offerings that Marketlend will offer in the form of digital currency issues.
Black is the latest in a series of product launches from the platform provider.
The currency is 100 per cent backed by fiat currency assets in an independent trustee bank reserve account.
The conversion rate, Marketlend said, will remain the same due to its backing by one fiat currency, ensuring the black currency will always be the equivalent of $1 Australian dollar.
Leo Tyndall, founder and chief executive of Marketlend said being backed by fiat currency assets will "formalise recordings on the blockchain ledger, improving the security and efficiency of transactions."
"The unveiling of black is the result of many months of research and testing and we believe this will drive greater speed, efficiency and security across the Marketlend platform and its global recognition."
On the backend, black handles transactions with a blockchain, a distributed digital ledger of transactions that records who owns how much black, who transferred what, and how much black to whom.
Investors wanting to liquidate black will be repaid by an authorised transaction between the trustee and the investor to release money from the trust reserve bank account.
Marketlend has engaged trust manager Tyndall Capital to manage the register of black.
Since its launch in 2014, Marketlend has funded more than $120 million to Australian businesses.
Sarah Simpkins is a journalist at Momentum Media, reporting primarily on banking, financial services and wealth. 

Prior to joining the team in 2018, Sarah worked in trade media and produced stories for a current affairs program on community radio. 

Sarah has a dual bachelor's degree in science and journalism from the University of Queensland.

You can contact her on This email address is being protected from spambots. You need JavaScript enabled to view it..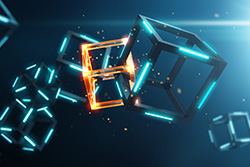 Written by Sarah Simpkins