Currency | 03 February 2020 | Lachlan Maddock <
The industry fundraising effort, which is being led by Crypto Finder (the cryptocurrency division of the Finder comparisons website) and HiveEx, supports the Australian Red Cross Disaster Relief and Recovery Fund, the NSW Rural Fire Service Association, and WIRES.
"Finder, in partnership with HiveEx, is in the fortunate position of being able to leverage the market strength and unique executional capability of our businesses to help the cryptocurrency community help raise funds to fight against the bushfires," Finder said in a statement on its website.
"We're grateful to all our partners who are [helping promote] this effort."
Participating organisations can donate cryptocurrency to one of several wallet addresses listed on Finder.
Mine Digital, an Australian cryptocurrency exchange, is the latest to make a donation.
"As an Australian company, we feel that we have a responsibility to our community to support them in difficult times where we can," Mine CEO Grant Colthup said. "We are proud to support the Crypto Fire Alliance. We have had our own team members affected by the fires and are conscious of the tragic loss of animal life, property and of course human life over this hot Australian summer."
"We hope that our bitcoin donation can contribute to easing the burden on the people and organisations who are at the coal face on this tragedy."
Other organisations who have contributed to the fundraiser, which has so far raised $12,581, include Blockchain Australia, S2M Digital Recruiting, and the Blockchain Chamber of Commerce.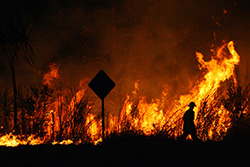 Written by

Lachlan Maddock