Data | 19 October 2020 | Sarah Kendell <
Bravura's white paper, titled Leveraging the technology ecosystem to deliver intelligent and sustainable financial services, revealed a number of key 'global megatrends' that would impact on Australian financial advice groups in the coming years.
Key among these was the use of client data, with the software group suggesting that "customers are looking for real-time, personalised support and guidance" around key advice topics such as retirement, pension strategies and insurance.
"They expect their financial providers to understand their changing needs, goals and expectations, build relationships with them and utilise their individual data to deliver seamless, holistic customer journeys that are intelligent and sustainable," the paper stated.
"Savvy providers will increasingly leverage artificial intelligence (AI) – virtual agents and digital-advice solutions supported by data-driven adviser insights – as well as financial dashboards, self-service capabilities and goals-based products that offer flexibility when circumstances change."
As a result of this demand for more personalised, digital-led services, Bravura said there would be increasing drive and competition between advice providers to know more about their client and be able to adjust their service accordingly.
"Machine learning will enable forward-thinking financial services companies to unlock key insights from customer and business data," the paper stated.
"It will require customer-centric business models capable of capturing and maintaining large high-quality datasets from omni-channel interactions, including social media. Though larger firms have an advantage, smaller firms can access the data they need from third parties."
Another trend identified by the report was the increasing use of 'microservices', specific tools that advice firms could plug into their existing software infrastructure, rather than having to overhaul or update their entire system.
"This global megatrend is expected to gain pace as financial services providers seek capabilities that solve business and customer pain points in much smarter and more cost efficient ways," Bravura said.
"This approach eliminates the need for software release cycles, whereby one simple change might have knock-on effects across an entire core platform."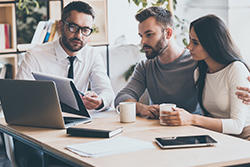 Written by

Sarah Kendell