Industry | 14 February 2019 | Eliot Hastie <
Sydney-based start-up Forum 360, which offers personalised meeting experiences with the management of funds and companies via any device connected to the internet, was recently unveiled. 
The platform utilises embedded audio-visual technology to deliver an interactive group meeting experience that allows participants to set the agenda and interact in a natural way.
Forum 360's chief executive Rowland Hirst said the platform was dedicated to helping companies better measure how they engage with investors and advisers.
"Forum 360 is a collaboration tool for advisers. Advisers can better showcase the difference between passive and active management to their clients via regular and convenient meetings with the manager," he said.
Mr Hirst said the platform allowed investors to connect in an affordable way with people regardless of where they were based.
"Forum 360 offers an interactive experience with a broader audience of investors than an earnings result. In comparison to roadshows and conferences, Forum360 is far more cost effective and time efficient."
The platform also recorded data from its meetings to allow companies to have a more personalised experience said Mr Hirst.
"Forum 360 provides feedback and analysis based off hard data from shopping through booking, in-meeting activity, post meeting reviews to fulfilment. It is not subjective feedback nor is it based on shareholder trading activity at a later date," he said.
Mr Hirst said the platform was still growing and would one day launch a market place online to allow for companies, funds and advisers to all connect in new ways.
"The insights we will pull from our growing network will lead to an improved standard of engagement and communication as funds and companies will be better prepared and better informed of what works and what does not work for them when engaging their key stakeholders," he said.
Eliot Hastie is a journalist on the wealth titles at Momentum Media.
Eliot joined the team in 2018 having previously written on Real Estate Business with Momentum Media as well.
Eliot graduated from the University of Westminster, UK with a Bachelor of Arts (Journalism).
You can email him on: This email address is being protected from spambots. You need JavaScript enabled to view it.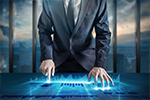 Written by Eliot Hastie