Industry | 08 September 2015 | Taylee Lewis <
The Investec Young Entrepreneurs Trip, promoted by H2 Ventures and Investec Australia, is now open to applicants who have run their own business full-time for at least two years. 
The successful Australian entrepreneurs will join their peers from the UK and South Africa for a six-day tour of some of Israel's innovative start-ups between 8-14 November, an H2 Ventures statement said. 
Investec Australia chief executive Milton Samios said: "This is a terrific opportunity to highlight some of our best entrepreneurial talent and to bring back some innovation secrets from Israel."
H2 Ventures founding partner Ben Heap said: "We are delighted to work with Investec as we endeavour to play our part in the broader start-up ecosystem in Australia."
He added: "We are competing in a global market, but we truly believe Australia – and Australian entrepreneurs – has the capacity to be a global leader in sectors such as agri-tech, mining-tech, biotech and, of course, fintech."
The tour has been running between South Africa and Israel since 2013, with eight to 10 trips a year. This will be the first time Australian entrepreneurs will be involved. 
All expenses will be covered by Investec, "making this one of the most valuable prizes on offer to aspiring entrepreneurs", H2 Ventures said.
Applications close on 30 September.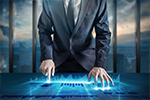 Written by

Taylee Lewis