Industry | 02 May 2016 | Tim Stewart <
The Tech Pioneers Top 50 report was compiled by venture capital fintech accelerator H2 Ventures with the support of Investec Australia.
NSW-based global 'unicorn' Atlassian topped the list and was followed by New Zealand's Xero and Victorian firm Envato.
The top ten is rounded out by Campaign Monitor, Canva, OFX, Freelancer, Vend, Invoice2go and WiseTech Global.
The companies were selected based on five factors: total capital raised; rate of capital raising; geographic and sector diversity; consumer and marketplace traction; and 'X-factor'.
H2 Ventures founding partner Ben Heap said entrepreneurs will be integral to the future economic growth of Australia as the country enters an "innovation age".
"The companies on this list are at the leading edge of the 'ideas boom' and the drivers of the economy of the future," Mr Heap said.
Investec Australia chief executive  Milton Samios said the Tech Pioneers Top 50 list "clearly shows the depth of the technology sector in Australia and New Zealand".
"Atlassian and Xero are both wonderful companies, widely recognised and respected, but there are 48 other companies on the list that are equally impressive," Mr Samios said.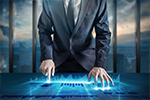 Written by

Tim Stewart