Industry | 04 September 2017 | Jessica Yun <
The 'virtual banker' has been designed to answer business customers' frequently asked questions in order to save time spent on admin.
NAB chief operating officer Antony Cahill said in a statement, "Our research shows that two-thirds of Australian SMEs cite dealing with administrative tasks as taking a lot of effort, and our customers desperately want to spend more time on their business and less time on dealing with admin tasks.
"'We're working hard to make banking an easy and supportive experience for our customers and technology like this helps save business customers critical time."
The AI assistant was developed based on thousands of real questions customers asked, and can answer 200 questions asked in over 13,000 ways.
Developed alongside customer testing and feedback, 75 per cent said the "virtual banker was a highly desirable offering that would help them with their banking needs", the statement said.
The online 'customer self-service' will also feature step-by-step video tutorials to assist customers with navigating the bank's platform features.
The AI assistant operates around the clock on NAB's website and will be continually expanded to offer answers to more queries.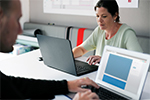 Written by

Jessica Yun