Industry | 24 November 2017 | Reporter <
The co-operation agreement, signed on 23 November, provides a framework for the regulators to share information on fintech development and refer fintech businesses to one another.
This makes the ninth co-operation agreement ASIC has entered into, having already signed similar agreements with the UK, Singapore, Ontario, Hong Kong, Japan, Malaysia, Abu Dhabi and Switzerland, according to a statement.
ASIC commissioner John Price said the regulator was excited to partner with the Dubai Financial Services Authority (DFSA) to encourage fintech development, with a particular focus on regtech.
"Regtech is becoming more and more important – this is a new frontier in our bilateral co-operation that will benefit both regulators and businesses," Mr Price said.
DFSA chief executive Ian Johnston said the authority maintained a "long-standing productive relationship" with ASIC.
"Today's agreement underscores our commitment to maintaining strong channels of communication with our regulatory peers and creates a regulatory framework that supports the latest developments in fintech innovation," he said.
Recently, the DFSA set up the 'FinTech Hive' accelerator program and the 'Dubai Future Accelerators', a nine-week program that paired technology companies with government organisations to form solutions.
The DFSA also regulates the Dubai International Financial Centre and allows fintech firms to apply for an 'Innovation Testing Licence' that allows successful applicants to test products and services within a regulatory environment.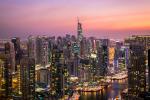 Written by

Reporter