Industry | 15 January 2018 | Reporter <
Seven companies have been issued with Australian Financial Services Licences to act as intermediaries able to provide a crowd-sourced funding service.
With the issuance of the new licences by ASIC, eligible companies will be able to raise capital by making offers of ordinary shares to investors via the online platform of one of the intermediaries.
ASIC commissioner John Price said the development marked a "significant milestone for crowd-sourced funding in Australia".
"ASIC has been assessing applications as a matter of priority, as suitable intermediaries needed to be licensed before fundraising under the new regime could commence," Mr Price said.
"Intermediaries have an important gatekeeper role, which will be key to building and maintaining investor trust in crowd-sourced fundraising, so we are pleased to have now issued the first tranche of authorisations," he said.
Equity crowdfunder OnMarket, one of the seven companies to receive a licence, described the new regime as an "innovative way to fund someone else's dream".
OnMarket CEO Ben Bucknell said, "It's time all Australians had a fair go and access to Australian businesses of the future. Previously, investing in businesses like [athletics firm] Revvies would only be accessible to angel investors or venture capital firms but through equity crowdfunding investment democratisation is here to stay."
Birchal, another firm to receive a licence, said it would open up "a new economy of people power allowing businesses to raise capital in a brand new way".
Birchal is set to help 10 companies raise capital using its new licence, including two brewers, a shaving supplies company and a water storage start-up.
Equitise co-founder Chris Gilbert said, "This groundbreaking change means Australians can now put their money behind what could become the next Atlassian or Canva and support early stage local companies raising up to $5 million.
"We have led the charge to change this legislation for the past three and a half years to give all Australian investors the opportunity to invest in early stage companies."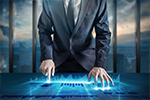 Written by

Reporter