Industry | 01 June 2015 | Reporter <
Queensland co-working community River City Labs set up RiverPitch in 2012 in order to bring together tech start-ups and venture capitalists.
River City Labs founder Steve Baxter said RiverPitch differs from typical angel group setups.
"RiverPitch ... is solely focused on bringing together investors and start-ups, without dictating how a single investment gets done," Mr Baxter said.
"Following the event, meet-ups between both parties are organised bilaterally, attesting to RiverPitch's flexible and yet proven approach to investment."
River City Labs general manager Peta Ellis said the event is focused on internet or mobile-focused start-ups that want to take their businesses to "the next level".
"RiverPitch is truly changing how investing is being done in Brisbane," Ms Ellis said. "Its unique format offers a different approach to capital funding, bringing together investors and start-ups in an informal, social setting."
RiverPitch will be held on 19 June in Brisbane, with the top 10 pitches to be announced on Friday 5 June.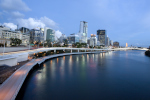 Written by

Reporter