Industry | 19 February 2018 | Reporter <
Advisers that have a relationship with Managed Accounts will receive preferential pricing on two of Moneysoft's products under the terms of the deal announced on Tuesday, 13 February.
Advisers using the tools will be able to better engage with clients, provide them with additional services and create greater efficiencies, according to a statement.
Managed Accounts managing director David Heather said the two companies are culturally aligned.
"The growth in managed accounts is part of an industry-wide shift to more transparent and efficient investing," Mr Heather said.
"Pairing our next generation platform with Moneysoft's money management, cash flow and budgeting services creates additional value for advisers by giving them and their clients greater visibility of actual financial behaviour."
Moneysoft's Jon Shaw said the fintech provider has been investing in automation technology that will help advisers gain efficiencies.
"Using automated data collection underpins a more robust know your client process while also enabling advisers to focus on developing strong personal relationships as a basis for providing advice," he said.
"Those system efficiencies flow into reporting, analysis and marketing activities to help grow a scalable practice."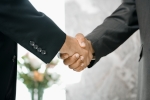 Written by

Reporter