Payments | 17 September 2018 | Reporter <
In July, Stratus Technologies hosted an event to dissect the current landscape and discuss what tomorrow's transactional environment might look like with some guest experts from the sector.
In partnership with ACI, the event saw a group of industry leaders come together at the Sydney Startup Hub to hear from the hosts, as well as listen to a panel conversation with Katie Heathcote from Austrade, Christian Westerlind Wigstrom from Moneytech, Phillip Finnegan from ACI, and Lynda Coker from Scale Investors.
Ms Coker, who moderated the event's discussion, opened the panel dialogue by painting a high-level picture of payments activities in Australia; outlining that transactions are indeed getting faster, easier and more frequent – but that the mixture of cards and terminals, mobile phones and contactless devices are creating a unique mixed-bag of payments methods that organisations are having to balance for customer benefit.
"As the execution of payments rapidly evolves, the ability to collate and analyse transaction data to turn them into highly personalised, sophisticated and accurate customer experiences are the key opportunities for Australia to become a global player in the space," she said.
The speakers openly debated how consumer trust, privacy matters and new 'banks' entering the market are influencing Australia's payments landscape, and how payments capabilities will play a role in which providers will have a competitive edge.
"It is paramount, as we steer towards a cashless society, that the new digital payment services on offer by organisations have reliable transaction environments to avoid downtime," Stratus regional director for ANZ Michael Fyson said.
"Australia's financial institutions must put a large emphasis on resilient and secure capabilities to maintain trust with consumers in future. They are responsible for ensuring minimal risks to consumers payment availability, accessibility and usability."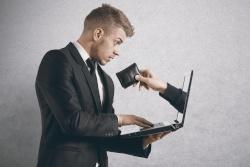 Written by

Reporter