Payments | 25 November 2019 | Lachlan Maddock <
The buy-now pay-later giant was the subject of an AUSTRAC probe over allegations it breached the Anti-Money Laundering and Counter-Terrorism Financing Act (AML/CTF).
But an independent auditor contracted by Afterpay has discovered that the breaches occurred because of incorrect legal advice.
"In reaching these findings I have established that Afterpay's compliance with its AML/CTF obligations was, from the outset and over time, based upon legal advice from top-tier Australian law firms," wrote Neil Jeans, an anti-money laundering consultant who conducted the audit.
"I am of the opinion this initial legal advice was incorrect."
The unnamed law firms decided Afterpay was not providing loans to consumers but instead providing factoring services to merchants. This advice "did not reflect Afterpay's business model" and led to the company focusing its AML/CTF controls upon merchants rather than consumers.
"Despite Afterpay having a compliance-focused culture, the consequences of being provided with incorrect legal advice has resulted in historic non-compliance with the AML/CTF Act and Rules," Mr Jeans wrote in the report.
However, the audit noted that Afterpay's transaction monitoring system is now "effective, efficient and intelligent" as a result of greater resource allocation.
Mr Jeans also decided that the nature of Afterpay's service mitigates some money laundering and terrorism financing risks, and noted that the company's AML/CTF compliance had "evolved and matured over time".
Afterpay was quick to seize on the opportunities of the report in light of Westpac's recent breaches of the same laws.
"Afterpay reaffirms that it has not identified any money laundering or terrorism financing activity via our systems to date," the company said in a statement accompanying the report.
But the ball is now in AUSTRAC's court. The regulator will consider the report and decide whether to take further action.
Afterpay has pledged to continue its co-operation with AUSTRAC.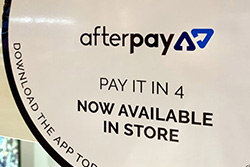 Written by

Lachlan Maddock