Payments | 13 July 2020 | Lachlan Maddock <
Afterpay reported underlying sales of $11.1 billion in FY20, more than doubling from the prior corresponding period. That growth was particularly pronounced in Q4 – 127 per cent above the prior period – as global lockdowns fuelled a massive surge in online shopping. Active customers grew to 9.9 million for FY20, while EBIDTA is expected to be between $20-$25 million.
"Today's announcement is the outcome of a lot of hard work and unwavering commitment by a [world-class] team," said Afterpay CEO Anthony Eisen. "Our ability to achieve such positive operating metrics in the current environment is a product of our purposefully differentiated business model and our loyal customer and retailer base.
"Given the ongoing impacts from COVID-19 and the uncertain global economic conditions, we have continued to focus on preserving capital and maintaining a strong balance sheet."
Afterpay also undertook an $800 million capital raising, consisting of an institutional placement of $650 million and a share purchase plan of $150 million, in order to speed up its expansion into new markets and create "the flexibility and capacity to execute on potential M&A opportunities".
"The flexibility in our business model allowed us to manage risk when we needed to, but also take advantage of positive customer sentiment and behaviours," Mr Eisen said. "Our ongoing investment in growing our retailer and customer bases, and global expansion objectives, will ensure we continue to deliver [long-term] benefits to our shareholders.
"By raising capital today, we believe we will be in our strongest position possible to execute on our strategic initiatives and growth aspirations."
The glowing result is a stark contrast from the dark days of March, when Mr Eisen was forced to issue a defence of Afterpay's fundamentals as its share price was hammered by market hysteria.
"Afterpay has not been immune to these market concerns which is evidenced by the volatility in our share price over recent weeks and days," Mr Eisen said in a letter to shareholders at the time. "We are unaware of any information, outside of the current uncertainty in the market generally, that would have precipitated recent share price performance."
But the buy now, pay later giant still faces a number of headwinds, including an AUSTRAC review of its AML/CTF compliance, the creation of the BNPL Code of Practice, and an RBA review of retail payments regulation that could see Afterpay's business model put under a microscope.
Whether those headwinds will do anything to slow Afterpay's soaring share price remains to be seen.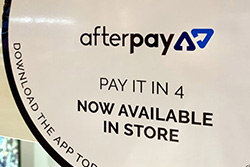 Written by

Lachlan Maddock