Payments | 30 August 2021 | Sarah Kendell <
In a statement, payments-based fintech Slyp said it had appointed Ashley Davies to the role.
"Ashley is an experienced senior leader with more than 20 years' experience, ten of which have been in fintech companies. He spent the past three and a half years with Intuit where he joined as Head of Finance for Australia before being quickly promoted to manage all of APAC," the company said.
"Prior to joining Intuit, Ashley tenured almost seven years with PayPal, five of which saw him based in Silicon Valley, where he was selected as Venmo's first Chief Financial Officer."
The company said Mr Davies' primary responsibility in the new role would be overseeing Slyp's next funding round, set to close before the end of the year.
"Ashley's technical skills and experience will be invaluable in developing the commercial modelling which will form the foundation of Slyp's future, both in Australia and overseas," the company said.
The group added it was hoping to grow "aggressively" in the next 12 months, aiming for a team of more than 70 staff by August next year.
"Ashley coming on board is a great step forward for Slyp. With his experience in the tech sector in both finance and strategic roles, he'll bring an extra level of analytical and financial nous to strengthen our leadership team as we continue our exponential growth and momentum here in Australia, and plan for global expansion," Slyp chief executive Paul Weingarth said.
"I couldn't be joining Slyp at a more exciting time in its journey. The growth the business has seen since officially launching late last year is staggering and it's clear there's a lot still to come," Mr Davies said.
"The upcoming fundraise is just one example of this and implementing steadfast financial processes and commercial modeling will set us up for even bigger capital raises when the time comes."
Founded by former PayPal executives in 2017, Slyp provides users with itemised tax receipts of their purchases available inside their banking app.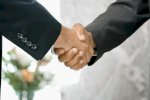 Written by

Sarah Kendell