Payments | 07 October 2016 | Killian Plastow <
InPayTech is seeking to raise a minimum of $3 million and a maximum of $5 million through its initial public offer (IPO).
The prospectus for the offer was lodged with ASIC on 23 September and the IPO will open on 17 October.
Shares in the company will be offered at 20 cents each, with up to 25,000,000 being offered through the prospectus.
InPayTech chair Don Sharp said through an ASX listing, the company would be able to grow at a rate of 45 per cent per year. He said the existing client base and relevant stakeholders would have "a higher degree of confidence knowing they have the transparency of a listed company".
InPayTech intends to use the capital raised in the IPO to expand their business capabilities in the Asian region, Mr Sharp told Fintech Business.
"We'll end up with a fairly significant holding in cash, depending on whether we do the minimum or the maximum, and then we plan to utilise that cash to commercialise our patents that we have granted in Asia, which is Japan, China, and shortly we'll be getting approval in Hong Kong."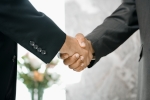 Written by

Killian Plastow