Wealth | 01 March 2021 | Sarah Kendell <
The Investment Trends 2020 Platform Benchmarking & Competitive Analysis Report, which ranks 15 major investment platforms according to functionality and adviser preferences, revealed that HUB24 had secured the top overall ranking with a functionality score of 89 per cent.
This was closely followed by Netwealth with 88.9 per cent, and Praemium in third place with 84.8 per cent. BT Panorama, with an 82.4 per cent overall score, and Macquarie Wrap at 76.5 per cent, rounded out the top five.
"The narrow difference in overall platform functionality scores highlights the intense competition between the leading platforms, many of which have made meaningful refinements to their product offering, reporting, decision support tools and integration in the last 12 months," Investment Trends associate research director King Loong Choi said.
The report found a key trend in platform functionality last year was firms responding to new remote working trends as a result of the COVID pandemic, by rolling out new features such as digital signatures and electronic ID verification.
"The platform industry continues to drive innovation and functionality improvements from the back-end to front-end, which is especially vital as financial advisers and their clients adjust to a social distanced way of living," Mr Choi said.
"The move to a paperless, fully-digital end-to-end process is fast becoming a reality."
Over at BT, a key digital innovation brought about in recent months was the Blue virtual assistant on BT Panorama, which helped to answer adviser queries on simple issues instantly, according to BT managing director platforms, investments and operations Kathy Vincent.
"The chat bot is learning 'on the job' and last week alone helped over 900 people and responded to more than 2,000 queries," Ms Vincent said.
Mr Choi said a number of the other major platforms had also introduced time-saving new features to facilitate efficient client engagement online.
"In the last 12 months alone, HUB24 and MLC MasterKey have incorporated electronic ID verification services to automate KYC checks and super withdrawals, while Praemium and CFS FirstChoice launched tools for advisers to electronically send documents to clients for digital acceptance," he said.
"Improvements that reduce admin friction and help foster greater client engagement will be increasingly sought after by advisers and their clients, as more embrace end-to-end digital solutions."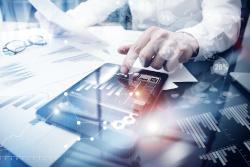 Written by

Sarah Kendell