Wealth | 12 September 2022 | Neil Griffiths <
The role of the social media influencer — or the "finfluencer" — in financial advice has been a contentious topic for some time, but it should be looked at as a positive, a local planner has argued.
Nathan Fradley, senior financial adviser at Tribeca Financial and director at Ethos Australia, has suggested the industry look at what finfluencers are doing right, rather than condemn them, to help their own businesses and clients.
"I'm focusing on the great things that are happening to separate and the great people that are separating themselves," Mr Fradley said during an appearance on the latest episode of the ifa Show podcast.
"Who's using finfluencing approaches within the realms of their advice to be better?"
ASIC took a major step in the finfluencer space when it released an information sheet in March which outlined how the law applies to them and licensees who use them.
The guidance outlined activities where influencers may contravene the law if they are unaware of their legal requirements, considerations they should take, and also guidance for licensees who are engaging with influencers, with ASIC warning: "If we see harm occurring, we will take action to enforce the law."
While the move was largely applauded by industry stakeholders, Mr Fradley said some finfluencers have shown how advisers can build an audience and better engage with their clients.
"What we've not been good at is engaging with people to show what we do historically. We've been gatekeepers to product. We've had scandal," he explained.
"I think when we start looking at this…  we should be having a single message that the Australian public knows what financial advice is and why it could benefit them without so many different and confusing messages going out there.
"To be a successful person in social media, you have three things and you say them over and over and over and over and over again. And we should be looking at that and saying: 'Well, what are they doing that's working? How can we do that? How can we be pro-stuff instead of being anti them?'"
Meanwhile in July, The Advisers Association CEO, Neil Macdonald, said that while finfluencers can play a role in financial education particularly for younger people, it is "extremely unfair that well-qualified, experienced, professional advisers have to go through so many more hoops" to provide that education and information. 
Mr Macdonald expressed hope for the upcoming Quality of Advice Review to address the issue.
Listen to the full ifa Show podcast with Mr Fradley here.
Neil is the Deputy Editor of the wealth titles, including ifa and InvestorDaily.
Neil is also the host of the ifa show podcast.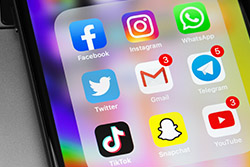 Written by Neil Griffiths