Wealth | 30 May 2016 | Shared from www.investordaily.com.au <
Bernie Ripoll, former federal member for Oxley and author of the 2009 Ripoll Report into financial services and products, will join Map My Plan's board on 1 June 2016.
Mr Ripoll left the shadow ministry in September 2015 and left Parliament on 9 May 2016.
"Fintech is clearly having a transformative effect on financial services and the way the industry meets customer needs," Mr Ripoll said.
"Joining Map My Plan gives me the opportunity to help bring great advice to the majority of Australians currently missing out and to do something positive with my years of experience in Parliament and government," he said.
Map My Plan founder Paul Feeney said Mr Ripoll's extensive background would be a "huge asset" for the company's future.
"He will work with us to achieve our goal of improving the financial fitness of every Australian," Mr Feeney said.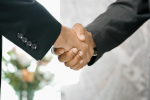 Written by

Shared from www.investordaily.com.au