Industry | 16 October 2017 | Reporter <
Kyckr, which provides AML/CTF compliance services to financial services firms, has raised $2 million via a share placement to institutional, sophisticated and professional investors.
The share placement closed oversubscribed with offers scaled back, according to a statement by the firm.
Kyckr announced a US distribution deal with the Boston-based Mizen Group in June 2015, and has recently added Bloomberg and IBM to its client list.
The proceeds of the share placement will be used to invest in "additional operational support and produce capabilities", as well as "additional investment in business development resources and office locations to meet global demands from existing blue-chip clients", said the statement.
Kyckr is connected to 150 business registries around the globe, creating a 'live' registry that its clients use for 'know your client' identity checks.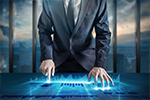 Written by

Reporter