Industry | 21 May 2018 | Reporter <
In a statement, Stone & Chalk announced Ms Lampotang would assume responsibility for the start-up hub's operations and community experience.
She makes the move after six years at BT Financial, where she held senior manager roles. She was most recently regional manager for the workplace super team spanning the NSW, ACT and Queensland states.
Her new position will see her lead a team of specialists as well as report directly to chief executive officer Alex Scandurra, who said tempting a senior financial services executive to join the start-up hub was "a big coup".
"She brings with her incredible operations experience as well as expert knowledge of super and wealth industries, and an unparalleled network of industry connections," he said.
He also added that the appointment came at an "exciting time" for the hub, given the recent relocation to the Sydney Startup Hub as well as the establishment of its presence at Melbourne's Goods Shed.
"Marie-Anne will play a pivotal role in helping us take our operations to the next level in Sydney," Mr Scandurra said.
Commenting on her own appointment, Ms Lampotang said she was "thrilled" to join Stone & Chalk.
"Having been involved in small business myself, I can certainly relate to what it is like being a founder," she said.
"I'm excited to be rediscovering my inner entrepreneur and leveraging my 20 years in professional and financial services to help our residents grow from small businesses to global leaders."
She also expressed her excitement at the chance to champion the superannuation and wealth sector at the hub.
"There is a lot of money in super, $2.6 trillion, and this presents a huge opportunity for startups who want to help engage customers in that space," Ms Lampotang said.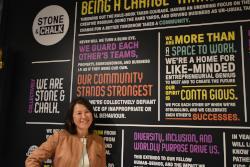 Written by

Reporter