Industry | 16 April 2018 | Jessica Yun <
The 23rd Global Financial Centres Index report, released every March and September, saw Sydney fall from its position as the world's eighth most competitive financial centre to ninth.
Melbourne, which rose eight places to 13th in September 2017, bumped up to 12th on the global ranking list.
The top seven financial hubs remained in exactly the same order since the 22nd GFCI report: London, New York, Hong Kong, Singapore, Tokyo and Shanghai.
But San Francisco, which was 16th on the list in September last year, jumped eight places to eighth, beating Sydney.
A spokesperson for peak industry body FinTech Association acknowledged Sydney's drop but also noted how quickly both Australian cities had risen to the top of the list.
"It wasn't that long ago – in fact, in April 2016 – that Melbourne was sitting well down the list in 30th position and Sydney at 17," the spokesperson said.
"Now both cities appear to have stabilised their positions in the top 15 and Melbourne is beginning to gain on Sydney."
In recent months, Sydney and Melbourne have strengthened their start-up hubs for Australian fintech businesses with the establishment of the Sydney Startup Hub as well as Melbourne's two new fintech hubs, Stone and Chalk and YBF Ventures.
"The solid ranking for both Sydney and Melbourne is a good sign for Australia's financial services and fintech industries," the FinTech Australia spokesperson said.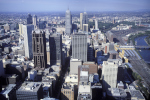 Written by

Jessica Yun